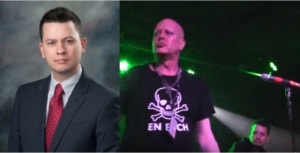 Josh Luttrell is a litigator at Tenopir & Huerter in Topeka, Kan. And for six weeks this autumn, he was the keyboard player for an electro-industrial rock band.
Luttrell had developed a friendship with En Esch, the German musician behind KMFDM, Pigface and other bands. He went to see him in concert in Kansas City in September, and the two reacquainted after the show. A few weeks later, En Esch asked Luttrell to play keyboards on a North American tour with Lords of Acid, Combichrist and Christian Death.
"I initially said thanks, but there's no way," said Luttrell, whose practice includes criminal defense and family law. "I told my wife, and she insisted that I do it. I figured out the logistics, went to my boss and asked if I could take six weeks off. He said you only live once."
It may be an unconventional sabbatical, but upon his return Luttrell reported many of the benefits Harvard Business Review attributes to extended time away from the office: a decline in stress, an increase in psychological resources and stronger overall well-being.
"Employers should recognize the practice of law is demanding," he said. "If you give attorneys a reprieve, they can bring something back that will benefit the firm."
Harvard Business School agrees; in the studies it shares on sabbaticals, they are found to benefit not only the individual who takes them, but the organization as a whole. Sabbaticals help law firms by maintaining lawyers' creativity and resilience, but they also provide opportunities for the colleagues to fill in, and serve as a "stress test" for the organizational chart – a meaningful reality check for succession planning.
Sabbatical programs can thrive at law firms of all sizes. Perkins Coie LLP has more than 1,000 attorneys and offers a two-month sabbatical to employees with 10 to 13 years of service. (It's one reason the firm has been ranked among Fortune's 100 "Best Companies to Work For.") Meanwhile, at Hutchinson Black and Cook, LLC, a 25-lawyer firm in Colorado, partners are eligible for a full year off, at full pay, after 10 years of employment and every seventh year thereafter, according to Legal Management magazine.
"The reality is that sabbaticals are a fantastic chance to introduce clients to other attorneys in the firm," a Hutchinson Black and Cook administrator told Legal Management. "I've witnessed this time and time again: attorneys come back and they just look younger – physically. It takes years off their aging."
Whether your sabbatical is part of a formal firm program or, like Luttrell's, a serendipity seized, manage it mindfully to make the most of it. The career site The Muse offers several tips:
Get settled. Establish your home base, and start some routines to keep you grounded – specific times for exercise, checking your email, et cetera. As The Muse notes, "Keeping certain tasks consistent can help you stay focused and efficient and establishing some familiarity can help lessen the shock of such a big change."
Luttrell's schedule was completely inverted – he would play concerts almost every night, then sleep on the tour bus during the day. He developed a rhythm of communication with the associates who were staffing his cases; they often touched base through text.
Get out of your comfort zone. Learn something new; try new food. Cultivate your curiosity, and remember that your sabbatical is your time for adventure, not the same old-same old.
Luttrell's adventure took him coast to coast. In six weeks, the band traveled by bus to Kansas, Kentucky, Michigan, Ohio, Wisconsin, Minnesota, Colorado, Utah, Idaho, Oregon, Washington, California, Arizona, Texas, Florida, Georgia, North Carolina, Maryland, New York, Pennsylvania, Illinois, Missouri, Oklahoma and New Mexico. (The one constant: Burger King.)
Manage your time. At some point, the sabbatical life may start to feel like your new grind – what once was your favorite thing about a new place can become a frustration. (See: Burger King.)
Luttrell said he was surprised by the amount of work involved in the tour. "I always assumed it's fun all the time. But you sleep, you get there, you unload, you set up, you play. It's exhausting."
Be proactive with your calendar; schedule things that excite you.
Document the journey. Share what you're learning on social media. (Luttrell shared his photos on Facebook.) This is fun for your friends and family, but it also preserves it so you can meditate on it when you get home.
Recognize the experiences that are relevant to your career. Great advice from The Muse: "Try to identify experiences that utilize your skills, help you master new ones, and offer something unique to future [clients and prospects]."
Luttrell said it was "pretty handy" to have an attorney on tour: "There were contract issues with venues. There were certain times you had to deal with authorities or give advice to people; being an attorney helped." He is considering building a niche practice on bands' tour issues.
Return home and keep exploring. Have a purposeful plan for reintegration – catching up on correspondence, getting back into the rhythm of your legal practice, reconnecting with your friends and colleagues. Think about how to foster new contacts and skills.
"People want to work with each other again –a lot of connections are made, and a lot of conversations about what's going to come next," Luttrell said. "In life, it's good to be able to go try and experience things like that. I wouldn't say I necessarily came to my practice different, but I'm inspired to expand and take advantage of connections to do something different."
Concert footage from Luttrell's tour via YouTube; he is the keyboard player on the right of En Esch.