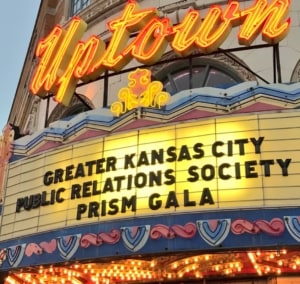 Eight months after launch, Firesign earned our first PRISM Award, recognition for outstanding work in public relations. The PRISMs are presented by the Greater Kansas City Chapter of the Public Relations Society of America; the 2017 awards were announced at a gala October 12 at the Uptown Theater.
Firesign won top honors in the category of editorial writing for founder Katie Hollar Barnard's article, "Beware the Seven Deadly Sins of Attorney Bios," which appeared in Forbes in March 2017.
A full list of PRISM winners is available here.
Photo credit: Jake Jacobson