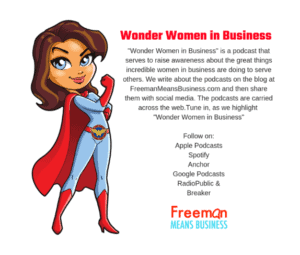 Katherine Hollar Barnard was recently a guest on the Freeman Means Business podcast Wonder Women in Business discussing all things Firesign, being an entrepreneur, walking the walk creating opportunities for women in business and more.
Freeman Means Business "Wonder Women in Business" podcasts serve to raise awareness about the great things incredible women in business are doing to serve others. The podcasts are carried by Apple Podcasts (iTunes), Spotify, Anchor, Google Podcasts, Breaker, RadioPublic and other podcast channels on the web.
Here the full interview here.