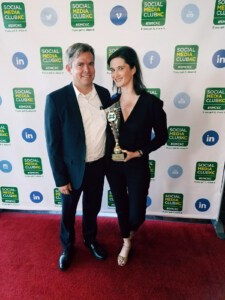 On June 19, Firesign received its first AMPS Award from Social Media Club of Kansas City. The agency won Gold in the category of Email Campaign: Brand.
The AMPS Awards recognize the best social campaigns in the Kansas City region. Now in its fourth year, the program celebrates digital marketing campaigns from brands, nonprofits and government entities/educational institutions. Projects are judged by national social media professionals who evaluate campaign goals, implementation and results. More information on the AMPS Awards is available here.
The award was presented at a celebration at Boulevard Brewery.
Social Media Club's primary mission is to "expand digital media literacy, promote standard technologies, encourage ethical behavior and share best practices." The Kansas City organization is the country's most active chapter.