The Association of Marketing and Communications Professionals (AMCP) recently selected Firesign Legal Marketing as an award recipient in its dotCOMM Awards 2020 competition. Firesign was recognized as a Platinum winner, the top award, in the category "Website | Legal" for client Wickham James Strategies' website.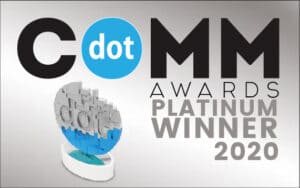 dotCOMM Awards is an international competition honoring excellence in web creativity and digital communication administered by AMCP, "one of the largest, oldest and most respected evaluators of creative work in the marketing and communication industry."
There were over 2,000 entries from the United States and other countries in this years' competition with approximately 14 percent winning Platinum, 18 percent winning Gold, and 5 percent named Honorable Mention.
Click here to learn more about dotCOMM awards, and view a full list of Platinum winners available here.